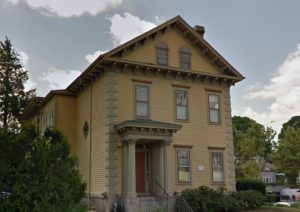 The law office of Attorney Mark Buckley, CFP® is located at 1536 Westminster Street in Providence. Mark serves clients in Rhode Island and SE Massachusetts in the areas of Chapter 7 bankruptcy representation, debt-settlement negotiation, and estate planning.  He is a proud member of the National Association of Consumer Bankruptcy Attorneys and is the only bankruptcy lawyer in Rhode Island who is a CERTIFIED FINANCIAL PLANNER™ professional.
Mark skillfully combines bankruptcy law and financial planning to eliminate debt, protect property, and rebuild credit.  His successful approach helps clients regain control of their finances and obtain a fresh start.
Mark served on the first Attorney Advisory Committee to the RI Bankruptcy Court and was a contributing author to the Bankruptcy Law Network.  Mark also served on the Board of West Bay Christian Academy.
A life-long resident of Warwick, Rhode Island, Mark, and his wife Heather, enjoy travel, gardening, and spending time with their two Border Collies and Papillon.
Free DEBT Consultation
Mark provides free bankruptcy consultations to clients by phone, video, in-home visits, or appointments in his Providence office.  Attorney Buckley will explain the difference between debt consolidation scams, credit counseling, and other debt-relief options.  Once your debt picture is clear, Mark can determine if you are a good candidate for bankruptcy, a payment plan, or a lump-sum settlement.
While no lawyer can guarantee an outcome, Attorney Buckley will refund the attorney fee if your bankruptcy case is not approved. Fortunately, every RI Chapter 7 bankruptcy case filed has been successful and Mark is careful only to accept clients he knows he can help.
Choose the Best Bankruptcy Lawyer
With 4,219  lawyers in Rhode Island, who is most qualified to solve your unique debt situation?
Choose a lawyer committed to helping consumers, not creditors.
Choose a lawyer with decades of consumer bankruptcy law experience, not a general practice lawyer.
Choose a lawyer that has successfully handled thousands of cases, not one who merely dabbles in bankruptcy.
Choose a lawyer with a reputation for professionalism and good communication. Read online reviews.  No reviews/ bad reviews are red flags.
Choose a lawyer who will handle your case personally, not a "bankruptcy mill".
Attorney Buckley's Unmatched Commitment
Mark Buckley is committed to helping clients in financial distress.  He understands how debt can affect every area of life. He will offer the right solutions to restore order to financial chaos.
Mark provides legal counsel that is honest, fair, and respectful.  Whether your case is a simple Chapter 7 bankruptcy or a complicated negotiation, Mark is a lawyer who is professional, patient, committed, and caring.